Richard Wright:
winner of this year's Turner Prize
This title was taken from a review by Jonathan Jones of the prize winner of this years Turner Prize at the Tate Britain. It refers to the ephemeral nature of this work which will be painted over at the end of the show despite the painstaking work in its creation.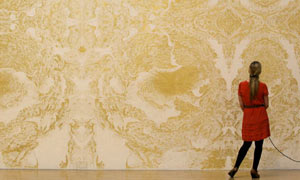 Read a wonderful post on the Turner prize winner this year by
Deborah Barlow
of
Slow Muse
. She has included 4 reviews from the UK art press. To read more on Deborah and her work click
about
where an interesting quote from Robert Hughes informs the idea of slow in relation to art. Deborah's posts consistently stimulate further thinking long after reading them. There is gravitas and a depth of engagement as befits the title Slow Muse.
I just found this particular translation of a poem by Rumi at Slow Muse - July 2007 which I have (and love) from another source:
The Guesthouse
This human being is a guest house.
Every morning a new arrival.
A joy, a depression, a meanness,
some momentary awareness comes
as an unexpected visitor.
Welcome and entertain them all!
Even if they're a crowd of sorrows,
who violently sweep your house
empty of its furniture,
still, treat each guest honorably.
He may be clearing you out
for some new delight.
The dark thought, the shame, the malice,
meet them at the door laughing,
and invite them in.
Be grateful for whoever comes,
because each has been sent
as a guide from beyond.
R
umi