Ruth Gurvich was born in Argentina in 1961 and has lived and worked in Paris since 1987. I noticed her work on Poppytalk, then went to
ruth.gurvich.free.fr/#
and found these other works dated from 2000 onwards. I love the construction...so very sculptural and with that quality of stillness that is so arresting.

Furie 2000 acrylic on tyvec paper

Dessins I: Vase 2005 crayon, s/montage en papier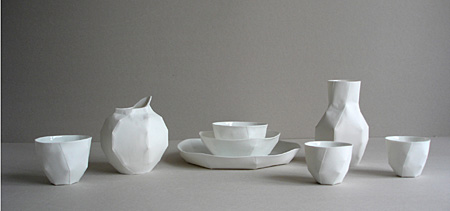 Ensemble

Morandi 2004 papier

Vases 2007

Pile I, 2007, Porcelaine
October 26, 2007 Poppy talk featured ruth gurvich's work on a post. Click on Poppytalk on my Bloglist to go to this post.