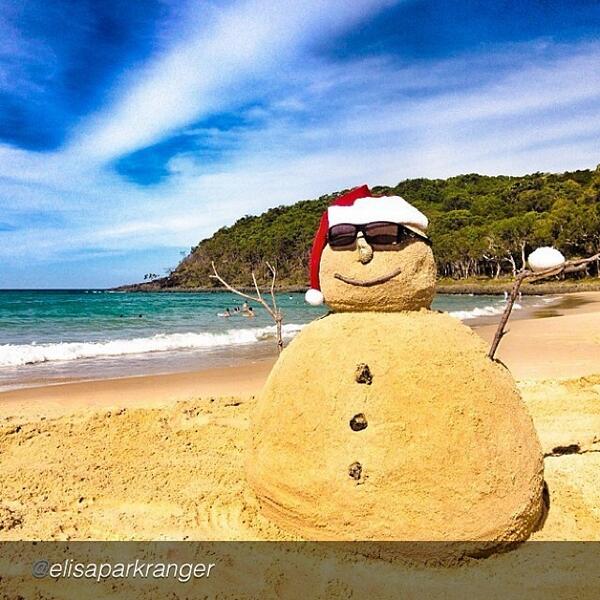 found at twitter...
Its warm here and even though I'm not at the beach this feels like a fitting image to share with peeps from the northern hemisphere.
Its actually late here as I type ... the end of christmas day... so I've added this image looking into my studio and house. It seems all the neighbours are away. We are still getting to know the neighbourhood so its an eerie feeling. Our former home always had more people around and late night revellers to boot.
SEED.ART.LAB studio is closed for a week. Back after New Years!
Whilst I don't speak spanish I do rather like the notion of joyful festivity... and I think it a good wish to send around the globe when we don't all subscribe to the same creeds, religious or cultural festivals. As many have a holiday at this time of year and the same calendar is quite common around the globe its a punctuation mark that means something to all of us ... whatever that may be!
We chose to stay in this year... a new home makes it appealing to do so. We'd have been at my niece Lara's in a flash if that didn't involve a busy freeway trip for 90 mins or more. On top of travelling south tomorrow one's 83 yr old mother voted to avoid the roads and Lara agreed it was wise. This year we celebrated her marriage to the lovely Dwight and 10 days ago were up for her 30th birthday and an announcement she will be having a July baby. So we will visit in January for sure... and come July keep us away!!!
Imagine my mothers delight when her 5 yr old great grandson William, son of Lara's brother Tristan and wife Renee, phoned this morning to say his Mummy was having a baby. Olivia, my mother sat outside all morning counting all the July birthday's there'd be in the family with such relish! As her birthday is July 31 she hopes either Renee or Lara will bring her a very special birthday present!
It's been a pleasant day and I've pottered a bit in the kitchen... very low key nibbles today which in the heat is great. Red papaya for breakfast. Simple things laid out for lunch... and this afternoon a taste of home-baked goods given as gifts this week.
The Panforte was made by Jane's mother Vivienne who's mother is Italian and no doubt they have cooked this panforte recipe for years. The other tiny Xmas cakes were from Olivia's friend Stella who is quite famous for her brilliant cooking I'm sure. She is the only person I know who takes her treats to cafe owners she befriends so they can try her wares. The love her... so do we! She's young 80+
year old and gift giving small treats is something she does all the time!
There other thing I'm doing is sorting things to take with me on a little mini-residency for 5 days.
My rationale in taking this short opportunity was to look into lining up a longer stay with hosts at
Koonjewarre
and
Springbrook Rescue
- part of the
Australian Rainforest Conservation Society
.
Their work consists of:
Springbrook Rescue" is a multi-stage project to protect and restore the World Heritage rainforests of the Springbrook region in South-East Queensland, Australia.
It involves seven programs:
1 acquiring land to expand the World Heritage area
2 restoring critical habitat and landscape connectivity
3 community engagement in World Heritage protection, presentation and restoration
4 science programs to guide restoration and monitoring
5 protecting World Heritage through better governance
6 presenting World Heritage values for their protection and community well being
7 partnerships to realize a shared vision
NB: text from
website
page!
Because I'm tagging along this week on a pre-organised camp I am doing a lovely exchange with them where I have a generous work space and I will offer 90 min classes over three mornings to 10 or more people. I will focus my seeds and biodiversity art classes around the work being done onsite to weed out invade species and restore the bio-diverse landscape which is deemed a Biodiversity hotspot.
Its come at a great time as I have been working non-stop to set up the new studio and introduce my plans for Seed.Art.Lab, and importantly, after months this year spent in limbo whilst relocating homes, these past 6 weeks have seen a spike in income that was... how to put it... absolutely about time.
I am so thankful to the support of a great many people who have visited, sent messages, made purchases at my online shop or in person, shared my project with friends and importantly set ideas up for next year so that there will be ongoing events, workshops and such.
Going backwards $10,000 due to stalled projects, expenses and new studio set up costs saw me holding my breath and anxious to turn that situation around. $10,000 is peanuts to some but I know many artists see it as something considerable and we don't like to spend when we're not earning.
Being able to get back on track makes me incredibly grateful for each and every bit of support and kindness that came my way. I am finishing 2013 in a far better place than when it started actually ... and despite the unnerving panorama of global challenges which I do, by nature, take very seriously I feel my faith in the kindness of many absolutely assures me of the colossal numbers of wonderful people on this planet that want it to be the best world it can be for all.
Recently starting "internships" at the studio has been a surprising joy. I've long enjoyed working with teens and children but it was an incredible stroke of luck that two separate conversations led me to intuitively put forward the idea of work experience to Sam and her mother back in May, and to Jane when I met her finally in person at my opening weekend after helping her in March with research via email.
That we decided to call it an internship was a mutual decision between the girls and I. They've been coming once a week for 5 or 6 hours. The focus of their time is spent between my projects and their own, depending on what else is happening at the time. They both wrote blog posts for me on their own artwork and their individual experiences here at the studio as they come on different days and have not met as yet.
Read Jane's post.
Read Sam's post.
We discuss what it means for them to be in a studio, slowly observing the full gamut of my particular art practice, getting glimpses into challenges and down-sides as well as the wonderful aspects of this vocation. Both families are delightful. Sam's mother put it to me from the start to ask 15 yr old Sam to help with anything useful for the studio business. This was liberating as I then knew there was a very clear understanding of my role.
Sam's father, until his recent untimely death, had an international career as an award-winning Architectural Illustrator so her understanding of a Studio Practice is very much about conducting a professional life and a business as much as exploring the depth and breadth of one's creative life. What has been exciting to see in her is that she understands the pragmatics of this vocation but is also utterly whimsical and enamoured with expressing her creative passion. Her joy in art-making is infectious!
Jane ushers in a kind of energy and experience that is different but equally inspiring. She brings me ideas every time she walks in the door. Have I thought of doing so and so... what about this or that? We laugh, talk and work on some of the tasks that she has essentially reminded me of the importance of.
Time soon passes and its been great to see her shift out of her heavily academic Year 12 mode of thinking and art making and into a period of freedom from academic direction... to realise there is now a window of opportunity for her to make marks and put down ideas that she feels like exploring... certainly at a least until she takes up University if that's what she chooses to do next. There's a fluid exchange... we go between working on something for my deadlines to thinking through things of importance to her quite effortlessly.
Ideal really for school students ... much of their direct experience of art at this point is more likely the busy school classroom, generally without commercial context or broader world engagement, apart from referencing ideas of artists. Perhaps if they were doing 5 days a week for a month or longer all this would be a different experience. But one day a week gives a solid grounding in the studio reality and 6 days to go off and ruminate on that and find whatever they might like to explore inspired from their time in the studio.
More days are planned for January and I look forward to that.
One thing I want to share before I sign off came up lately when approached by the Global Crop Diversity Trust re an image for their Christmas greeting. As a not-for-profit they were interested in connecting and doing Homage to the seed promotion in exchange for non-exclusive use of the artwork. Having followed their organisation since 2010 when my project was taking off it was an inquiry I was delighted to follow through on.
This was one of the artwork images I sent to them... 'Perennial Symbols from the Botanical Realm I'. It was decided to crop a section of this work for a closer view suiting the card the were going to have printed and also send via email!
Original work: 120 cm x 60 cm... one half of a dyptich.
To read more about this go to the
Homage to the seed blog post
I wrote this week where I described the way this painting evolved over two long years.
The cropped section below is now available as a Limited Edition print from my Seed.Art.Lab online shop here.
You can call my mobile on 0430 599 344 if you have inquiries. Or leave me a message on how to contact you! I've been organising to use Paypal so that makes it easier
at the online shop
.
It seems like a good note to end the year on really. To be able to share my artwork with the organisation that works at every level to conserve the seeds of the crops we rely on everyday all around the planet is a satisfying thought.
And tomorrow I go up to Springbrook National Park for a 5 day residency where I will be focusing on Seeds and biodiversity whilst learning about the efforts being made by Springbrook Rescue Action to restore land from invasive species and also deforestation that occured decades ago.
I'm finding myself falling asleep at the key board after rather a long day... so I'll be off for now.
Christmas blessings to followers of this tradition and my warmest wishes that your holiday be a great pleasure everyone!!