In 2009 I was fascinated to discover the blog 52 suburbs as it gave such a diverse and revealing view of this sprawling city which suffers from the overexposure of several icons... the Harbour Bridge, Opera House and Bondi beach. Yes it has a fabulous harbour and wonderful beaches... but twice decades ago I lived in Sydney and found it to be a bit of an impossible beast if you weren't able to live near where you worked. Nor was it an easy city, from my point of view anyway, to arrive in and makes one's way.
52 Suburbs blogger Louise Hawson's images and story telling gave it an engaging complexity ...so I returned often to see her take on the various suburbs... some being places I'd worked in here and there when doing that most dangerous of occupations - high school substitute teaching! You think I exaggerate?
One of my funniest memories was travelling an hour to one school located on a ridge from where you could view the city skyline in the distance. I was living close to the heart of the city at the time and I recall the students, when the learned I lived near the city centre, were awestruck... you live in Sydney miss? I realised that they did not identify one little bit with that skyline they could view each day. I often wondered about how people found their sense of belonging in this sprawling city if they'd come from elsewhere. Louise managed to answer that question in some ways.
Louise has not only had a book published this year, but an exhibition at the Sydney Museum open from May 14th till October 9th this year... some exposure!
Text from Museum website:
When photographer Louise Hawson realised she was a stranger in her own city, she set herself a mission - to explore and photograph one new Sydney suburb a week for a whole year. Originally presented as a weekly blog that developed a strong online following among Sydneysiders as well as fans across the world,
52 suburbs
reveals Sydney beyond the clichés of its harbour and beaches, delving into places most tourists would never think to explore. Inspirational, adventurous and eye-opening,
52 suburbs
captures beauty in the burbs, celebrating the vibrancy, multiculturalism and community of Sydney's localities in a refreshingly unconventional way.
Here's an interesting read at blog:
It seemed like a good idea at the time
- an interview between Louise and blogger Neda .
also from The Ember
Now she has another extraordinary project up her sleeve.
Go to her latest post to read in full...
.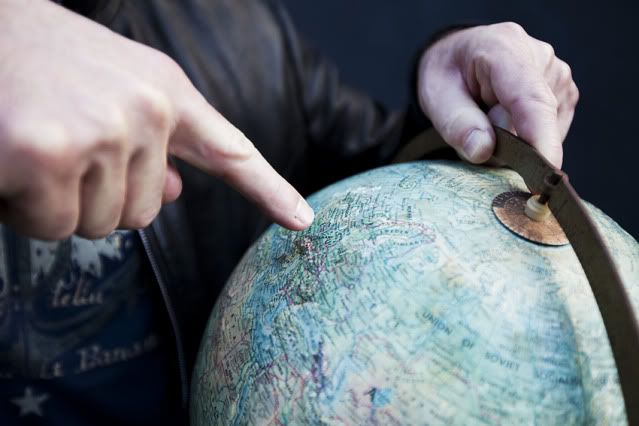 you'll have to read the post to see the significance of this image!!!
I have a globe that I once used to play a game with my neighbourhood children when I lived on the coast in the Hunter region of NSW. It involved them spinning the globe and pointing with eyes closed, to somewhere on the map... then imagining what they would discover if they went there.
Louise's next project reminds me of this game.
I also felt like I was spinning the globe on Friday when organising a ticket to London for my trip. Wanting to have stop-overs on route to London and back Seoul, Korea came up as a ideal option for me to consider. Since having a DVT (thrombosis) a few years ago the stop-over option is high on my mind... and I was thrown into wonderment at the thought of this unexpected detour. Who has visited Seoul? I've come across wonderful things from Korea from time to time and met some charming people from there.
I've not booked yet... but I'm liking this idea and considering a few days there on the route home.
Images from:
2003, KO-04678
2000, KO-04783
2000, KO-04220
2003, KO-05240
well... these images of contemporary Korean painting make me curious I must say!
must be off... lots to think on!
Hello to lovely new followers and those who continue to pop in even when my visits are quite infrequent.
a good weekend to you all!
Oh... and do pop over to the
homage blog
if you wish to read something poetic and lovely on the seasons in Japan!