A: a wobbling dessert otherwise known as a jelly.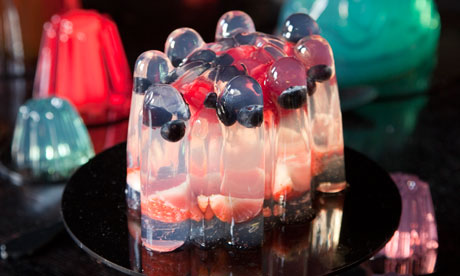 who are these masters of the wobble you ask?
The text from the Guardian's
Word of Mouth Blog post
on master jelly makers Bompas and Parr is a delight... perfect reading for a friday evening after a long week! There's nothing like whimsy to shift one's mood. I just have to quote bits from the post...
Jelly clinic: how to deliver a quiver
Sam Bompas and Harry Parr, the country's foremost jelly experts, are on hand today to introduce you to the magic and mystery of making jelly from scratch.
...
Jelly is the ultimate party food, an animal-based dessert that predates Christ and was eaten by Henry VIII for both the first and second course of his 1521 Garter Banquet. Slap a jelly on your dinner table and guests will be hypnotized by its lewd wobbling and your kitchen prowess.
The origins of jelly are shrouded in mystery, though one thing is clear - if you boil any collagen-rich meat and let the stock cool then you'll have a jelly. It would have tasted meaty even when sweet jellies became fashionable for the rich in the 16th century.
Yes, jellying today is ridiculously simple. But

you must respect the jelly

. Use the wrong ingredient or misjudge the gel strength and you'll be left with a sticky puddle. There's always the lurking danger of a jelly disaster.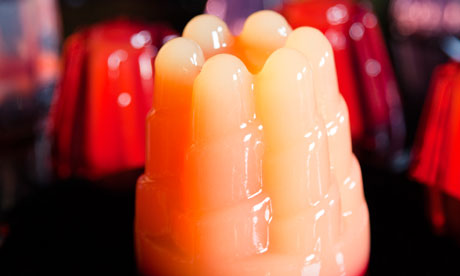 sex on the beach jelly
well thats a little more respectable!
the new look london
ok...any idea"
the clever duo!
I wonder if they met at art school?
Hope you enjoyed this lighter post... thought a change of tempo was in order. Have a good weekend all!