Here's something to ponder for painters...
TAAFFE: Essentially, I'm trying to make a primitive painting.
I'm trying to summon the archaic.
I want to enter into a primitive situation. This is my protest against the sensory deprivation that we experience, which is due to this tendency towards globalization, towards homogenization, towards the generic—a technological standard rather than an aesthetic standard. I'm mining history, trying to regenerate a pictorial situation that is more humanistic. It's not about commodification, it's not about fitting into some sort of corporate structure. It's opposed to that direction.
That is part of this piece from Interveiw magazine which I found today.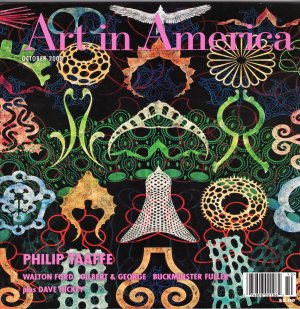 October 2008 issue




I've posted on Taaffe here before in May 2009... an early post when I had just started blogging and was very uncertain about the way I wanted to present ideas. However... I was never uncertain about this artist and his paintings or ideas. Since discovering his work some years back now I found myself drawn... and curiously ... able to resonate with certain leading themes and ideas in his work.







Juncosa, Enrique (curator), Colm Toibin, and David Brody (artist interview). PHILIP TAAFFE: Anima Mundi. 128 pages, roughly 40 color plates, numerous color and b&w figures. Small folio, boards. Dublin, Irish Museum of Modern Art, 2011. Exhibition in Dublin. Book available through Ursus books and prints.
Composition with Egyptian Vessels
1998
Mixed media on board, 32 x 24 in (81 x 61 cm)
Taaffe at work
I found the following quotes about his work
here
.
"What Taaffe has been doing now for almost three decades, as his paintings reveal again and again, is nothing less than bending the shape of time. He began by looking at art from the '60s; today he travels much further back, to earlier centuries, to ancient civilizations, searching for ways to reimagine the world in which we live that acknowledge those 'ancestral connections.'"
Robert Nickas, Artforum, May 2008


"Mr. Taaffe aspires to the condition of an Oriental rug weaver: Strict yet playful, he intertwines a lexicon of motifs into inventive structures. Then again, great rugs usually achieve an internal dynamic; however much they play games with scale, they exude a sense of containment. Like mosques, they are conceived as symbolic portraits of the universe…In his new paintings, as much as ever, there is a bravura insolence in his collision of cultures, his insistence that everything can be reduced to ornament. But philosophically these sumptuous canvases can equally be argued the other way, as reminders that every ornament has its origins in something once deeply experienced. Mr. Taaffe's eclecticism long outgrew 1980s attitude in favor of an enlightened universalism. These accomplished, rich, thoughtful paintings mark the election of the artist as a trustee of what André Malraux termed the 'Museum Without Walls.'"
David Cohen, The New York Sun, March 1, 2007
Well ... perhaps this is quite a foreign line of thinking for you?
There are, after all, so many approaches, so many philosophical view points and ways into painting.
A title I've used for a painting more than once is "archaic, yet reverberating still." For me that is a really important idea and in Taaffe I find an artist who extends this thought quite profoundly through his work. He has been recorded in interviews, had a number of critical commentary pieces written on his work... and you can read more at his website. Also really engaging are his studio viewings here.
Its late so I will pop back tomorrow to check for spelling mistakes and such!
cheerio,
Sophie