returning to a familiar place...
Don't quite know what's been in the ether of late ... seems as if things are moving though. Back in February I wondered how the year would find momentum as I happily focused on clearing out the small home studio space and getting work going there ... first on concertina books and then larger canvases. Late February I started tutoring at the Queensland University of Technology (QUT) in Visualisation for First year students in Architecture.
It's been an excellent experience getting to know staff at QUT since back in 2010 through invitations from both Architecture and Interior Design faculties to present on the project Homage to the Seed as well as my Journal process which has essentially been the back-bone of an art practice continuing from secondary school days. As a young student it was beyond my imagining to think of myself being or becoming an artist, yet I lived and breathed art of one kind or another and was always enamoured with books and journals.
Music studies competed with a passion for Art whilst I was growing up... I learnt piano from the age of 8. Five people in my home played piano, and sang,
and
were expected to overcome nerves and compete in Eistedffods. Suffering from nerves quite badly at that point I could never see myself taking music further. By contrast Art was a soothing tonic for the soul... happening as it did in quiet anonymity. One could please oneself what one did... there was no stage, no audience, and no adjudicator deciding whether one's technique was up to scratch or the feel for a particular composer's work was there.
Even then Journals were important... over time they led to a depth of immersion in ideas, at times offered profound solace, other times sparked intensely stimulating explorations ... all moods, ideas and impulses could find room in the pages of a journal. Its indeed gratifying to see years of quiet unseen work has relevance and many possibilities to develop further. Its been such fertile ground for the continuity of an art practise not dependant on funds, audience, or any other externals. What I now see is a process that speaks volumes... interest accumulates for the long-term aspects of the humble, ground-hog day working life of artists. A mouthful that.. but I'm sure many will know exactly what is meant and have that feeling about their own work!
We may have the technology and resources these days to build skyscrapers and mammoth architectural structures and yet the architects we love and truly admire may be the designers behind a particular small-scale domestic building. Integrity does not rest on who creates the biggest hit, the most famous idea, or is the youngest to succeed on the big stage. Integrity comes in so many shapes and sizes!
This engagement at QUT has been a wonderful introduction to new ideas and realms of thought through those I've tutored with and met during the period. Mid-semester, when not at QUT, the Residency at UQ, University of Queensland, took place at the Institute for Molecular Bioscience. You can see posts on all three blogs about the exciting experience.
in the Lab
Ive still to photograph and download all the work from that period so that is high on the to-do list!
On completion of this fascinating introduction into the Molecular world I was back at QUT for the remaining weeks of semester, seeing what students were up to and working alongside them on their final project to make a book that reflected the essence of their journey through the semester in Visualisation. I will photograph this work at their show in a couple of weeks and share it with you as soon as possible... Its been fascinating to see it all coming together!
In the midst of the UQ Residency I broke off for four days to attend the Dorothy Caldwell Workshop at Bunya which I wrote about a few posts back. As readers of that post saw.... much inspiration came from that unique time of working with others... all of us highly engaged in processes Dorothy was introducing and so poetically enlivening our thinking on.
So the year which began in a quiet and slow tempo did gain quite a spirited pace before I knew it and shows no sign of slowing down now. I find myself contemplating DNA sequencing and other extraordinary material Scientist Joshua Mylne introduced me to and then turning to the expansive, soulful thoughts of Dorothy Caldwell's Human Mark's workshop. Then there's all the ideas and learnings from the QUT experience in architecture and design... and on top of all that there are the conversations and images filtering in from bloggers and online exchanges around the globe. I value that so much for the engaging and often consolidating influence they have.
This week I found that a new project I proposed for North Queensland to run later this year will go ahead. It will allow me to pick up the threads of the Rainforest plants, fruits and seed capsules which became my passion during the 2010 Botanic Gardens Residency. More on that when it comes through... I was very excited on Monday afternoon to hear it will run I can tell you! I never been to the far north so this is something I've long been hoping to do.
Yesterday I met with Helena Lloyd, an artist friend who made me beneficiary of a Studio Residency at her Gallery in the second half of 2010. It was during the year at the Gardens... and in the challenging situation being on a formal residency with numerous outcomes expected but no studio provided. Helena's offer was so critically well-timed and I am forever grateful to she and her husband Trevor Lloyd for this significant in-kind support.
The studio is below the Gallery pictured here. Percolator Gallery is booked by artists on a weekly basis to exhibit their work and is a much needed For-hire Gallery Space for the region's artists to tap into. Working from her home studio allows Helena to get on with a new era for her own painting for her with family grown up and the Gallery now a well-established venue. I will be writing a post here very soon about
Helena's Exhibition
coming up here in the 2nd week of June... opening Friday 15th of June in the early evening.
More on that soon!
Percolator Gallery at 135 Latrobe Terrace, Paddington
the studio below the Gallery... back when I first moved in august 2010
My exciting news to finish the week on is that Helena has once again proposed a Studio Residency at her Paddington Gallery and yesterday I spent several delightful hours viewing her recent work for an upcoming show and talking through arrangements.
By the time I left with the key for the studio at Percolator Gallery my mind was buzzing with ideas... partly inspired by the conversations around Helena's unique experience behind her own work and upcoming exhibition... plus the flood of ideas generated by the thought of returning to this wonderful studio space.
Sophie in the Percolator Studio: November 2010 - photo by Helena Lloyd
I feel so blessed to return to this wonderful space and this view...
view from the studio at Percolator Gallery in Paddington, Brisbane


May you have a very good weekend no matter where you are and I hope to get into the flow before too long with my online communications... Ive been missing visiting you all with all this going on! I'm ready for some quiet times painting and clearing my head I can tell you!
Sophia x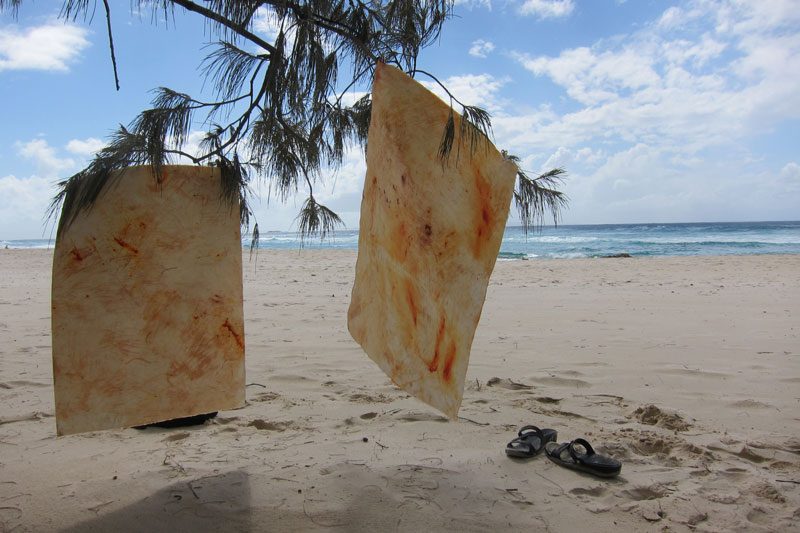 | | |
| --- | --- |
| Artist | Helena Lloyd |
| Title | Preparing paper on Stradbroke Island |
| Year | 2012 |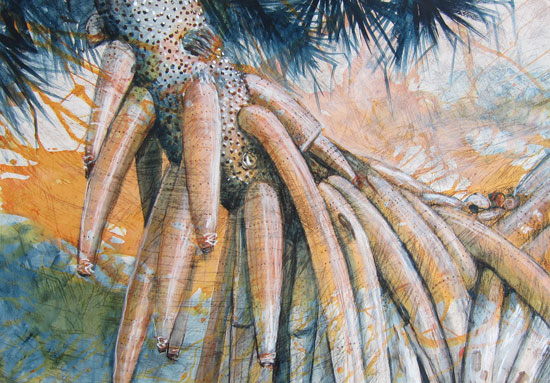 | | |
| --- | --- |
| Artist | Helena Lloyd |
| Title | Pandanus No 4: Coolum |
| Medium | Mixed Media |
| Support | Arches Paper |
| | |