Home again and catching up today...
homage to the seed weblog . . .: Adding spice to one's life!
You'll find lots of images as well and you can order if not visit in person if you want to try some of their more unusual offerings!
Being the largest city in Australia you can be sure there's thousands of places tempting one's palate. But didn't just eat out... I also cooked some evenings at home with my brother and his wife as company and others too!
One place I was most inspired by I have posted photos of and a mention goes to Phamish where I had
this scrumptious offering to try.
best go read all about these!
this was the venue...
I passed by this place... Bourke St bakery and had to stop in. That's the look most of their customers are wearing when they pause at the counter.
Just found these pics below
ginger brulee tart with pistaccio
seriously good... whoever thought up this I wonder?
at this blog ...
The Melbourne Gastronome
who was obviously holidaying in Sydney when writing this post!
Newtown is always a lively place to walk the streets ... I lived here in 1982
lots of art on walls everywhere: image from Beastman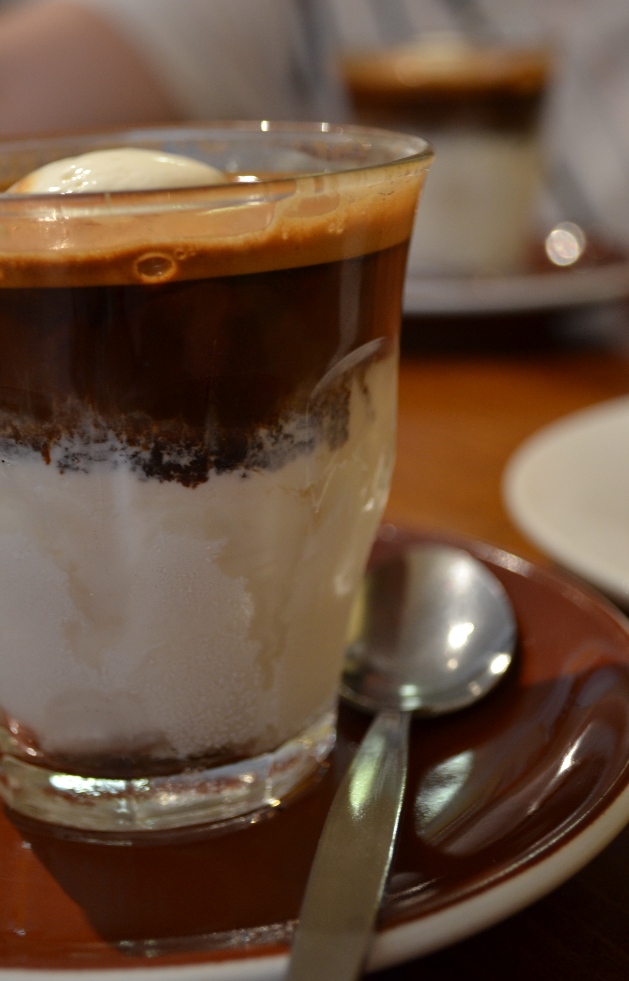 partial to these... Affogato - espresso and ice cream. Image found here
My Sweet Memory - Korean cafe and stationery store
One place I ended up by chance for an hour was a distance from the city - I drove a friend to a doctor's appointment and waited at this Korean cafe selling stationery items. Not kitch but rather stylishly designed stuff that was eco and minimal/ Its been almost 30 years since I spent time around here ... so to find the suburb of Strathfield bursting with Korean eateries and shops was fascinating.
That was my experience there this time... finding new and old places, drifting around some of the time in order to happen upon things rather than be on a mission with a long list of must dos!
On Sunday I got along to the Marrickville Growers Market which was a very eco-oriented market indeed. Colourful, alternative and organic etc. Like this stall:
I watched the woman behind this counter making
the most fabulous towers of interesting tidbits on
lebanese bread dishes .... as in these below.
Also at the market... via here.
ON I still haven't told you about the secret garden... my photos are on the other computer. Time to go now... I'll be back.
Hope your week is going well all you lovely passers by!
Ciao,
Sxo
ps: Here's the secret garden photos I have been meaning to post from my first weekend in Sydney.
This garden tumbles down the hill at the back of the house that's home to Wendy Whitely at Lavendar Bay. Looking out from the top of the garden the view is like this: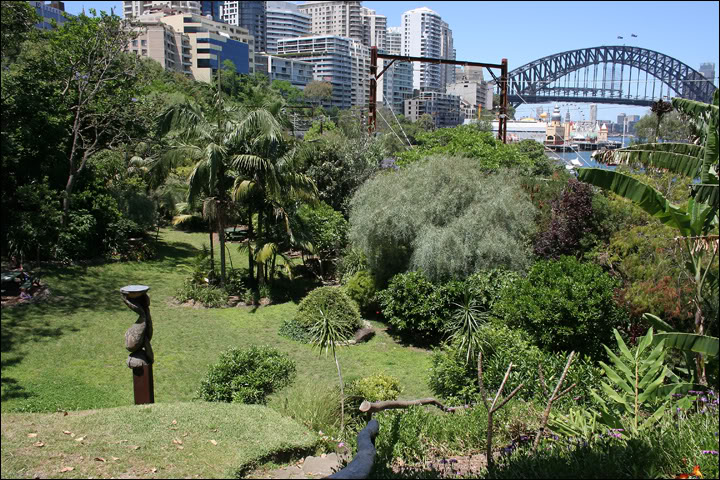 For those who've not heard of Wendy Whitely before, she was married for many years to eminent Australian artist Brett Whitely. His death in the early 90's was followed later on by the untimely illness and death of their only daughter... and so the garden became the place in time where she took her grief and made something come to life.


This particular photo I found here. Also more on the garden there as well.
'The Balcony 2' or 'Sydney by night' - from here:
Encapsulating key elements of Whiteley's art - his beloved harbour, fluent draughtsmanship, an erotically charged curvilinear line and ability to invest minimal brushstrokes with multiple associations - 'The balcony 2' is one of his most poetically evocative paintings.
Book published in 2004
Its so in keeping with the spirit of this artist that a lovingly created garden tribute exists by the harbour which so many of us saw brought to life in the artist's magnificent large canvases.
If you are ever in Sydney and want to go somewhere off the tourist path this is a peaceful place to wander to and take a picnic, rug and good book! It must be said though ... the harbour is so extensive that you may find it easier to go somewhere by ferry to relax... still this is maybe 10 mins from North Sydney railway station... and not hard to find!